The first ESG Shipping Awards was successfully held at an impressive ceremony on Tuesday, May 30th, 2023, at the Megaron Concert Hall, attracting the interest of the shipping community, in Greece and abroad.
In view of the increasing emphasis on ESG practices, at Marine Tours we embraced this great purpose-based initiative that aims to empower shipping companies to incorporate sustainability as part of their culture and strategy. Recognizing the hard work and long-lasting efforts of the Greek maritime community to take the lead towards the challenges of our times, should be a priority in favour of the environmental protection, improved social conditions and good governance.
Mr. Konstantinos Oikonomou, CEO of Marine Tours, attended the awards ceremony to present with great honour the "ESG People" Awards and the respective honorees, as follows:
Gold : DIANA SHIPPING SERVICES S.A. (Together for Good programme)
Silver: NEPTUNE LINES SHIPPING AND MANAGING ENTERPRISES SA (Silver Leadership & Development programme)
Bronze: LATSCO SHIPPING LIMITED (People Wellness & Rewards programme)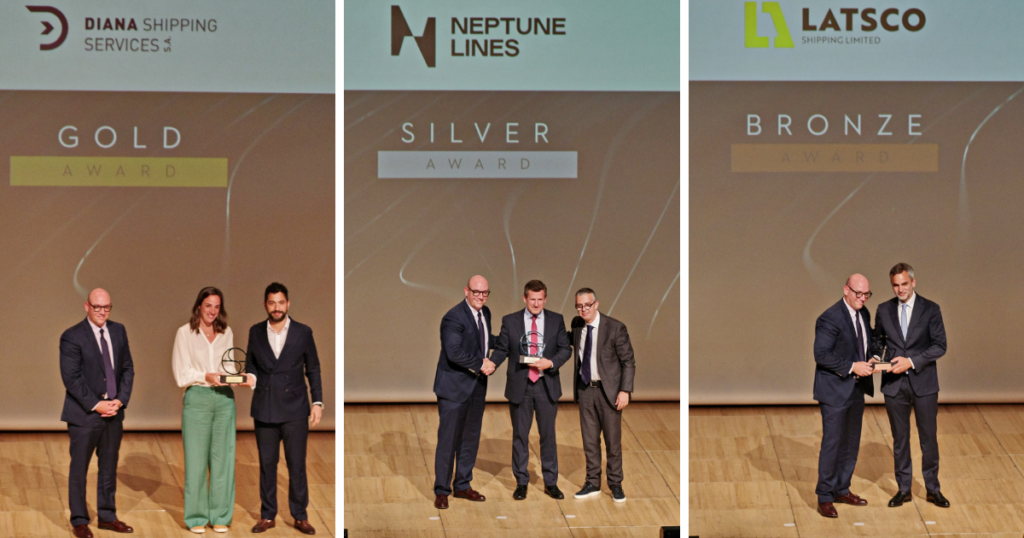 During his speech, Mr. Oikonomou, mentioned among others: "At Marine Tours we share the same vision and we are committed to do our part with a strong sense of responsibility towards a sustainable future. We put a high priority on the sustainable development and adhere to the necessary ESG policies, focusing on how to intensify our efforts in making every travel management more sustainable."
At Marine Tours, presenting the "ESG People" award category has not been randomly chosen. As always, it is our firm belief that Human Capital stands for the most fundamental asset. Since day 1, caring has been in our DNA while managing travel for seamen and shipping executives and handling even the most complex crew changes.
With more than 200 candidacies in 11 award categories. the first ceremony of the ESG Shipping Awards has been warmly embraced by the Greek Shipping Community and laid a solid base for the transition to the new era of sustainable development.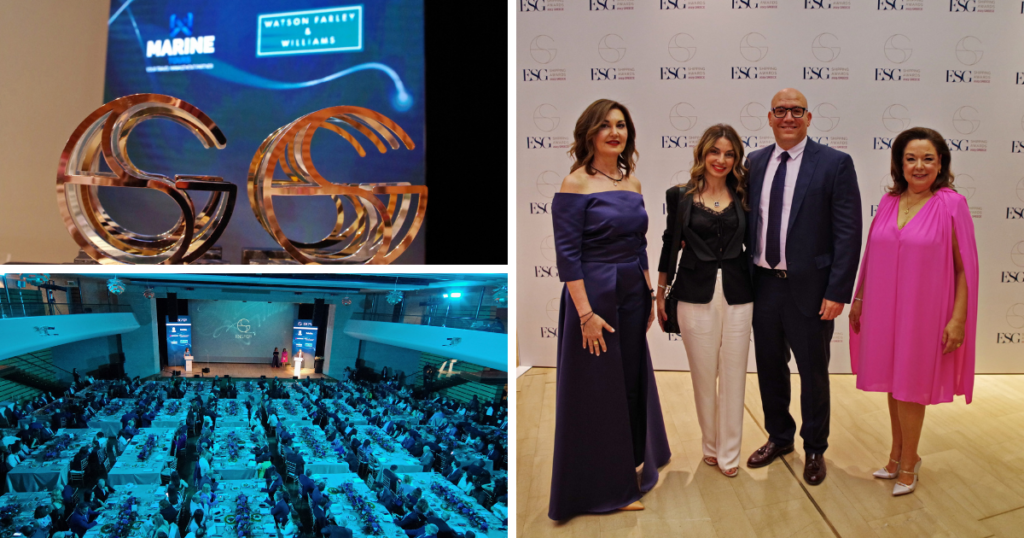 Here are the 11 award categories and the corresponding winners:

ESG LEADER Award
Gold: NEPTUNE LINES SHIPPING AND MANAGING ENTERPRISES SA
Silver: STAR BULK CARRIERS CORP.
Bronze: DANAOS CORPORATION

Environment Award
Gold: DANAOS CORPORATION (Environmental Life Cycle Assessment)
Silver: EURONAV SHIP MANAGEMENT (Sustainable Financing)
Bronze: LASKARIDIS SHIPPING (BlueCycle programme)

Climate Change Award
Gold: STAR BULK CARRIERS CORP. (Decarbonization Action Plan)
Silver: DIANA SHIPPING INC. (Sustainability Linked Loan)
Bronze: SEANERGY MARITIME HOLDINGS CORP. (ΑΙ Decision Making Tools)

Eco efficiency Award
Gold: GRIMALDI GROUP (Hybrid Ro-Ro vessels)
Silver: PRIME MARINE (Eco-efficiency Programme)
Bronze: DEEPSEA TECHNOLOGIES (Artificial Intelligence based voyage planning)

Social Award
Gold: STEM SHIPPING (Strategy for equal opportunities)
Silver: DIANIK BROSS SHIPPING CORPORATION SA (Social strategy)
Bronze: CENTURY BULK CARRIERS MANAGEMENT CO (Human Relations Department)

Health & Safety Award
Gold: LATSCO SHIPPING LIMITED (Occupational Health & Safety Management System)
Silver: SURVITEC SAFETY SOLUTIONS HELLAS SA (GHOST (Global Health & Occupational Safety Team)
Bronze: ARCADIA SHIPMANAGEMENT CO LTD (Safety Protection Programme)

People Award
Gold : DIANA SHIPPING SERVICES S.A. ( Together for Good programme)
Silver: NEPTUNE LINES SHIPPING AND MANAGING ENTERPRISES SA (Silver Leadership & Development programme)
Bronze: LATSCO SHIPPING LIMITED (People Wellness & Rewards programme)

Community Contribution Awards
Gold: ATTICA GROUP (Support local communities)
Silver: LASKARIDIS SHIPPING CO. LTD. SILVER (ANA – PNOI programme)
Bronze: HELLENIC HULL MANAGEMENT ("Joining hands with the world.")

Governance Award
Gold: DANAOS CORPORATION (Corporate Governance program)
Silver: STAR BULK CARRIERS CORP. (INTEGRITY AND ACCOUNTABILITY plan)
Bronze: DIANA SHIPPING INC. (Credible Board Structure)

Business Ethics Award
Gold: ATTICA GROUP (Regulation of Professional Conduct & Business Ethics)
Silver: AEGEAN SHIPPING MANAGEMENT SA (Business Ethics programme)
Bronze: PIONEER MARINE GROUP OF COMPANIES (Standards of business Conduct & Ethics)

Technology Award
Gold: SEANERGY MARITIME HOLDINGS CORP. (Collaborative Package of Energy Efficiency Technologies)
Silver: AVIN INTERNAIONAL LTD ("Ammonia Ready" Suezmax Tankers)
Bronze: ANEMOI MARINE TECHNOLOGIES (Modern mechanical sails – Rotor Sails)
Motivation Awards
NAVIGATOR CONSULTING (Stakeholder Engagement & Youth empowerment)
ΟΡΓΑΝΙΣΜΟΣ ΛΙΜΕΝΟΣ ΗΡΑΚΛΕΙΟΥ (Sustainable Facilities)