We put your people in the spotlight.
It is a fundamental part of Marine Tours' culture to offer your travelers top-notch, personalized service and an excellent travel experience. To us, your travelers are above all humans, that need to have a pleasant and engaging trip, in order to arrive anywhere in the world productive and ready for action.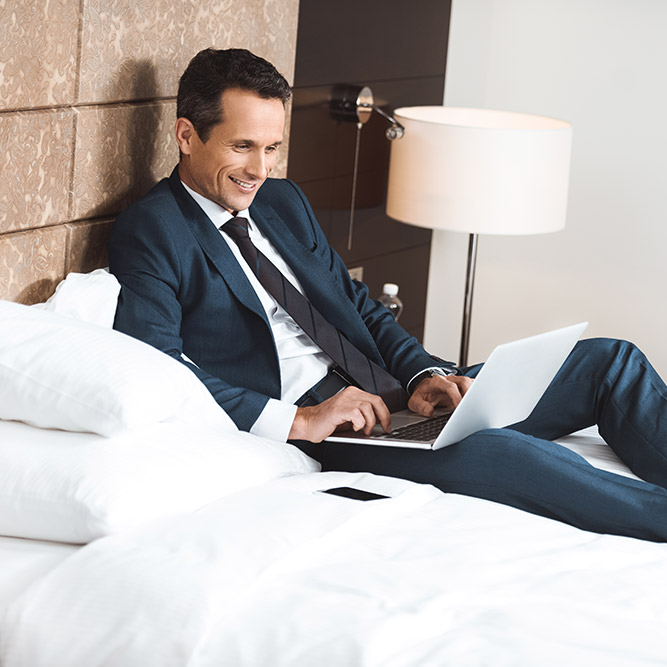 We see the forest.
Not just the tree.
Cost reduction should not be at the expense of quality of service and traveler experience. For example, a low-cost air ticket that includes three connecting flights could cause your executive to arrive at the table of a tough negotiation completely exhausted; and that could ultimately cost your organization much, much more.
At Marine Tours we leverage our state-of-the-art methodologies and bargaining power to achieve the golden mean between cost and traveler satisfaction, always within the framework of your travel policy.
72%
---
of travel managers in big companies consider traveler welfare as a key incentive for the recruitment and retention of talents.
top-3
---
Traveler Engagement consistently ranks among the top-3 priorities, along with Cost Optimization and Duty of Care, in companies with many travelers.
53%
---
believe that the integration of Traveler Engagement into their firm's travel policy can have a positive impact on the overall image of the organization.
Traveler Satisfaction
and how we ensure it

We know the needs
of every traveler
Each traveler's profile is an important tool for enhancing the overall Traveler Experience. As a key component of your Travel Policy, traveler profile defines a specific range for alternatives, whether regarding fares and hotels or other services.

We believe in bleisure
Bleisure is a term coined to describe the ideal balance between business and leisure, which has proven to significantly contribute to a positive traveler experience. In this context, we suggest relevant leisure activities for travelers, for as long as they remain in a destination.

We are
Traveler Experience experts
Our travel consultants have long experience and in-depth expertise. They provide your executives with valuable information and tips to ensure a positive travel experience wherever they travel in the world.

We make the best choices
for you
We utilize proprietary tools to find the best flight, seat, and airline for every trip, as well as the best hotel and room category, that matches the needs of both the journey and the traveler.

We inspire trust
Thanks to our Duty of Care services, your travelers feel safe 24/7, which is crucial to their positive travel experience and the maximization of their performance.

We offer specialized services
Such as our Meet & Greet service, where Marine Tours people greet you at the airport and offer their help and support with everything you might need until your flight.

We employ advanced tools
MT Voyager, our Mobile Application, is available to your travelers, providing them with an additional mean of easy and immediate access to our services.

Last-minute requests?
No problem
We offer last-minute support and services. This way your travelers know that we will do everything we can to respond even to an unforeseen and urgent request.

We work with the best
We choose only the best and most reliable suppliers. This ensures a better quality of service for your travelers and a better experience on their trip, while significantly reducing the risk of disruptions during their journey plan.
Now, you can ensure an excellent experience for your travelers.